10/02/2010
pe lang | moving objects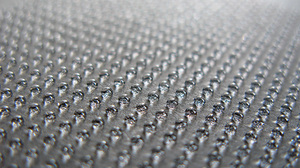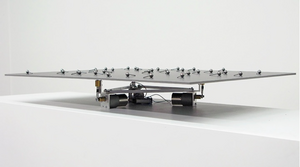 mAtterとgift_共催による、スイス人アーティスト: pe langの国内初の展示がgift_labで実現することになりました。
ミニマリスティックで無機質な素材や物質などを、独自のポエティックな視点によって構成し、まるで小さな生命体のようなユーモラスな動きや音をつくりだすオブジェクトに仕立て上げる彼の作品は、一見ストイックなようで、見る者を飽きさせない魅力を放っています。
このオブジェクト作品の展示以外に映像や、音源等も用意し、様々な方向から彼のつくり出す魅力的な世界を感じていただける貴重な展示企画となります。
是非お越し下さい。
※11月中旬に、スカイプ中継によるPe Langのアーティストトークを予定しております。
詳細決定次第このページ、及びmAtterのweb、gift_labのtwitter等で随時告知致します。
gift_lab on Twitter http://twitter.com/gift_lab

[pe lang :: moving objects ]
date: October 23, 2010 - November 23, 2010.
open 12:00 - 20:00
close every monday
Produced : mAtter + gift_
Coordinator : Yukitomo Hamasaki

-----
pe lang(ぺ・ラング):
www.pelang.ch
1974年スイス生まれ。
現在はチューリッヒとベルリンを拠点に活動している。
磁気、電気、機械を用いたデバイスや、自作のデバイスやプロトタイプを巧み組み合わせ、
パフォーマンスやサウンドインスタレーションを作るアーティスト。
彼が生み出す作品のエレガントでシンプルな仕組みは視覚的な魅力を持ちながら、
とても興味深いサウンドインスタレーションとしても機能している。
また、彼の作品は「秩序の中に作り出される無秩序」が重要なテーマ。
機械の正確な動きの中から、様々なものの衝突を生むことで見事に「混沌」を生み出し、
秩序と混沌を内包をする作品づくりを行っている。
Pe Lang, born in 1974 in Switzerland, lives and works in Zurich and Berlin.
He realizes performances and creates sound installations by ingeniously assembling magnetic, electrical and mechanical devices and even inventing new devices and prototypes. The resulting works are both visually appealing, because of their elegant and minimal kinetic qualities, but also fascinating for their acoustic features. If chance plays an important role in his works, the artist playfully manages to balance between order and chaos by controlling the forces involved in his compositions: the precision of the mechanical devices and the confusion resulted from the collision of the various elements.