11/21/2011
YUKITOMO HAMASAKI | EXHIBTION 'the next form that is formed'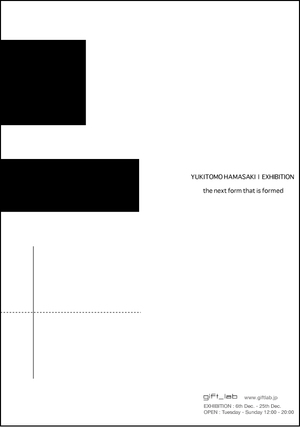 先鋭的なサウンドアートレーベルmAtterを立ち上げ、gift_labにもゲストキュレーターとして
Pe Lang始め何人かのアーティストをコーディネートした張本人であるYukitomo Hamasakiが、
様々な意味において今までとこれからを切換えるべく一人のアーティストとしての初の個展を行い
2011年の最後の月を飾ります。
●EXHIBITION
会期:2011年12月6日(火)~2011年12月25日(日) 
12時~20時/月曜定休
●CLOSING PARTY
期日:2011年12月22日(木) 18時~22時
*このクロージングパーティは、gift_labの6周年アニバーサリー・パーティを兼ねて開催されます。
http://www.giftlab.jp/diary/2011/12/exhibition_closing_party_gift.html
会場:gift_lab
東京都渋谷区恵比寿西1-16-1 丸山ビル2F
03-5784-0441
JR「恵比寿駅」西口・東京メトロ日比谷線「恵比寿駅」出口 4 より徒歩 3 分
東急東横線「代官山駅」より徒歩 5 分
Yukitomo Hamasaki : mAtter
http://www.matter.jp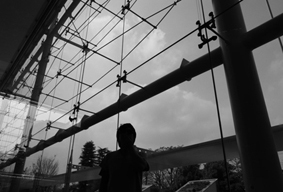 濱崎幸友 アーティスト
2008年mAtter設立。静謐な音響テクスチャーを使用し、影の現象にフォーカスした
自身の初ソロ作品[d+p]の発表と共にmAtter レーベルを開始。
国内外のアーティスト作品リリースす展開、また自身も国内外でのパフォーマンスを行いながら、
リミックスや映像作品へ の楽曲の提供やコラボレーション等など多岐に渡る。
音楽作品以外にもインスタレーション制作発表、今後はヴィジュアルアート作品の制作 / 発表を行いながら、
インディペンデント・キュレーターとして様々なエキシビジョン等でも活動。
YUKITOMO HAMASAKI
ARTIST and he has founder of Japanese sound/art publishing organization "mAtter" besed in Tokyo.
his music career at the age of 18, taking his cues from DJ.
His interested are light, a cloud, complex pattern and the collision that has happened by micro space.
And his theme is to compose them as a musical composition.
Moreover,his work : the installation / sound work and the graphic design.
He will start expression in various formats from 2012.